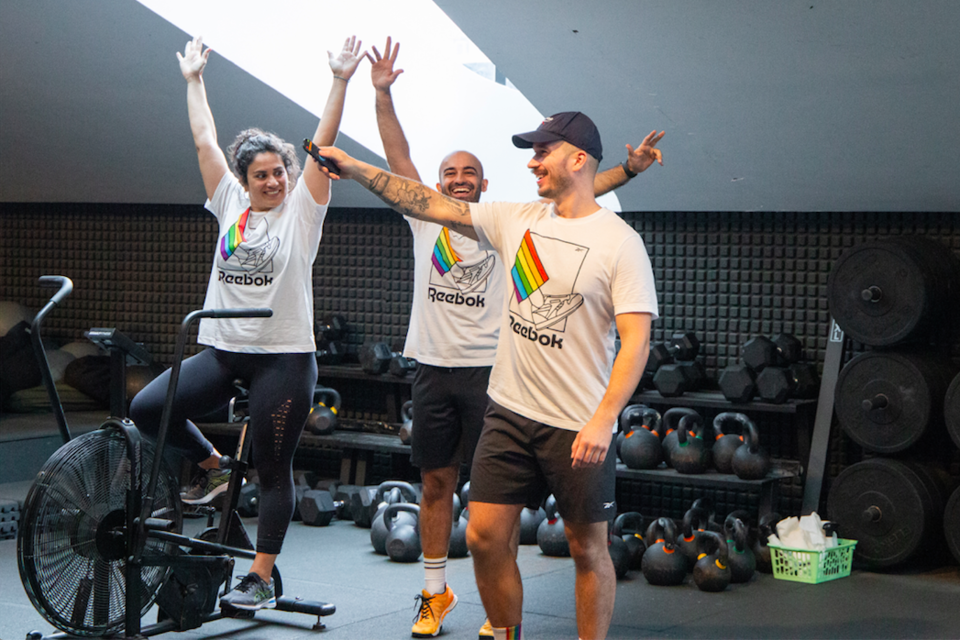 Pride Games zijn terug!
(Scroll down for English)

Na het daverdende succes van vorig jaar maken De Pride Games op zaterdag 23 juli hun comeback!

Dit jaar gaan jullie donaties naar We Are Queer - De gym!
Doneerlink

Inschrijven

De Games

De Pride Games is een 'competitie', maar geen normale competitie. We wilde een sportevent creëren waar je ook aan mee kan doen als je geen top sporter bent. Waarom we Games hebben toegevoegd aan de naam is met een kleine knipoog naar de CrossFit Games omdat de work out in CrossFit stijl is.  

Dat betekent ook dat je niet gaat strijden om de beste te zijn, maar samenkomt om te bewegen en een geweldige workout te hebben. Je krijgt wel een super tof Vondelgym-Reebok Pride shirt. En samen met onze sponsoren zorgen wij voor een leuke ervaring.

Voor wie is deze workout/competitie?

Iedereen die enige betekenis ervaart bij het woord Pride is welkom. Ook als je geen queer persoon bent. Als je zin hebt een samen met een buddy een leuke workout te doen en met een geweldige groep mensen te strijden, dan is de Pride Games wat voor jou.

De workout is in duo's. Iedereen is welkom, alle comibinaties mogelijk. Als je geen duo hebt, geef dat dat even aan via marije@vondelgym.nl.

De workout start op 3 verschillenden momenten. 9:00-10:00, 10:15-11:15 en 11:30-12:30. Je wordt door Marije ingedeeld op 1 van deze slots. Mocht dat niet werken kan je altijd een mailtje sturen om het aan te laten passen.

De komende tijd gaan we verhalen delen van onze queer community. Elk jaar willen we de stem geven aan de mensen die daadwerkelijk deel zijn van deze community. Dit om te kunnen leren van de ervaring van anderen.


Het Pride doel

Omdat we uiteraard iets willen doen voor de community tijdens Pride, steunen we dit keer We Are Queer, de queer gym die eind juli opent in het oosten van de stad.
Zoveel als Vondelgym haar best doet om een veilige haven te zijn voor mensen van alle genders en voorkeuren, een plek als een queer gym kan het nooit zijn. Daarom steunen we dit initiatief dat iets naar de stad brengt dat er nog niet is.

We Are Queer the gym is een initiatief van Senn.
Dit zegt die zelf over het idee:


"Let's be real: sporten kan super kwetsbaar zijn. Al helemaal als je je niet herkent in andere mensen in de gym, als je niet weet welke kleedkamer je in kan stappen, of je het gevoel hebt dat je je anders moet voordoen dan dat je bent. Want sporten is pas leuk op een plek waar je je geaccepteerd en welkom voelt. 
Daarom willen wij een queer gym openen.Een gym waar we binaire verdelingen buiten de deur houden, waar je lekker kan sporten en geen outfit te ver gaat. Knoop een praatje aan, pak je dumbells, en doe een dansje tussen je oefeningen. Hier mag jij jezelf zijn".
Een gym bouwen is een dure bezigheid en daarom kan Senn jullie hulp wel gebruiken met de aanschaf van een aantal zaken.



Deze items zijn nog nodig om de gym compleet te maken: 
Dip belt €37
Ring set €58
Landmine V-handle €79
Drop pad set €132
Plyo box €140
Axl bar €149
Safety squat bar €190
Swiss bar €215
Dit is €1000
Ski erg plus plate €953
Foam rollers €47
Dit is €2000
Weerstand elastieken €200 
Pull up bar €125
Bokshandschoenen €200 (6x€33)
Boks focus pads €150 (3x50)
Kick shield €160 (2x80)
Squat stands €165 
Totaal €3000

Krijgen we dat bij elkaar? En hopelijk zelfs meer voor We Are Queer?


Klik hier om te storten (en te zien hoe ver we zijn samen!)

Als je meedoet dan verwachten we dat je een donatie doet, maar als je niet meedoet en dit mooie initiatief wilt supporten is een donatie ook ontzettend welkom!
We hopen je te zien de 23e!


English:


After last year's succes the Pride Games are making a comeback on Saturday July 23rd!

This your your donations will go to We Are Queer - De gym!
Donation link

Sign up


The Games

After last year's major succes, the Pride Games are back!

The Pride Games is a 'competition', but not a normal competition. We wanted to create a sports event that you can participate in even if you are not a top athlete. Why we've added Games to the name is with a little nod to the CrossFit Games because the workout is CrossFit style.

That also means that you are not going to compete to be the best, but come together to move and have a great workout. You do get a super cool Vondelgym-Reebok Pride shirt. And together with our sponsors we provide a fun experience.

Who is this workout/competition for?

Anyone who experiences any meaning with the word Pride is welcome. Even if you are not a queer person. If you feel like doing a fun workout with a buddy and competing with a great group of people, the Pride Games is for you.

The workout is in pairs. Everyone is welcome, all combinations are possible. If you do not have a duo, please let us know via marije@vondelgym.nl.

The workout starts at 3 different times. 9:00-10:00, 10:15-11:15 and 11:30-12:30. You will be assigned to 1 of these slots by Marije. If that doesn't work, you can always send an email to have it adjusted.

In the near future we will be sharing stories from our queer community. Every year we want to give the voice to the people who are actually part of this community. This is to learn from the experience of others.


Charity?

This year's charity is the very first queer gym to open in Amsterdam. We Are Queer. We want to support gyms that create a safe place for the queer community to exercise. Why this is so important will soon be discussed in one of our stories.


Because we want to do something for the community during Pride, this time we support We Are Queer, the queer gym that opens in the east of the city by the end of this month.
As much as Vondelgym tries their best to be a safe(r) space for people of all genders and orientations, we will never be a queer gym. That's a good reason to support this initiative that brings something new to the city.
We Are Queer the Gym is an initiative by Senn and this is what they say about the idea:
"Let's be real: working out can be super vulnerable. Especially when you don't recognise yourself in the other people in the gym, if you don't know which dressing room you should use, or if you feel like you have to present yourself differently than you are.
Working out starts to be fun in a space where you feel accepted and welcome.
That's why we want to open a queer gym. A gym where we leave out the binary, where you can work out comfortably and no outfit is taboo. Have a chat, take your dumbbells, do a little dance between your sets. Here you can be yourself".
Building a gym is an expensive thing to do and that's why Senn can definitely use our help buying some of the equipment.
These items are still needed to complete the gym:
Dip belt €37
Ring set €58
Landmine V-handle €79
Drop pad set €132
Plyo box €140
Axl bar €149
Safety squat bar €190
Swiss bar €215
This is €1000
Ski erg plus plate €953
Foam rollers €47
This is €2000
Weerstand elastieken €200 
Pull up bar €125
Bokshandschoenen €200 (6x€33)
Boks focus pads €150 (3x50)
Kick shield €160 (2x80)
Squat stands €165 
Totaal €3000

Can we collect this? And maybe a bit extra for We Are Queer?


Click here to make a donation (and to see how far we got)

When you join the event we expect you to do a donation, but if you are not competing and you just want to support the initiative you are more than welcome to make a donation as well!

We hope to see you on the 23rd!
Mede mogelijk gemaakt door: Fitaid, Milo en Reebok.